I just came across a lovely blog via
Sian
and
Helen
. It's written by a young lady in New Zealand (I visited NZ for 3 weeks when i graduated and loved it) and is so light, airy, positive and pretty it inspired me to write a little about what it's like for me when I find a new blog that really grabs me...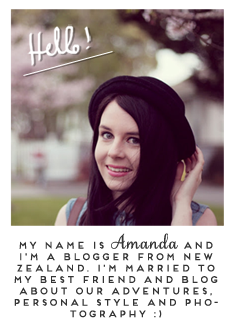 The first thing I liked about Amanda's blog was the header picture (see below) it is simple but very pretty and I love the illustration style...
Then I started browsing, I quickly skim read lots of recent entries and look at the photos, read the About Me, see what things we have in common and if it still seems interesting after reading more....I
thought
Amanda was cute, she had beautiful pictures throughout the blog, a great mix of posts from outfits, to food, to relationship and everyday happenings....
Then I looked back to see how old the blog was, this for me is a big test for a blog, is a long-standing diary of the writer or is it a recently started hyped blog that might not go anywhere...It was lovely to see that Amanda's first blog post back in 2008 says...
"...i have a feeling this blog might actually be the one. I have a habit of making them then never using them but i think this time might just be it."
It looks like this really was the one Amanda!
The most important thing about the blog though was that it was inspiring...it made me want to write a better blog, get out and run again, take pretty pictures, dress better and take pretty outfit posts, eat better food and set goals for myself. It is totally inspiring!
I'm looking forward to reading all your old posts and seeing what Christmas in NZ is like.
L xxx